Lunch is the hardest meal of the day for me. I have to run my younger kids to preschool and kindergarten and get them fed beforehand, so it's hard for me to find time to feed myself. I discovered quinoa bowls and they have been a game changer for me. I take pockets of time to prep and use Monday mornings to make a big batch of quinoa in my rice cooker to have on hand for the week. I also make some chicken in my instant pot with salsa to eat on during the week. This chicken is an FP for those who follow THM so it's very versatile. It's perfect for this meal. I can literally make this meal in under 10 minutes and it's healthy, filling, and delicious. I often accompany it with an apple and some chocolate/ peanut butter dip. YUMMY!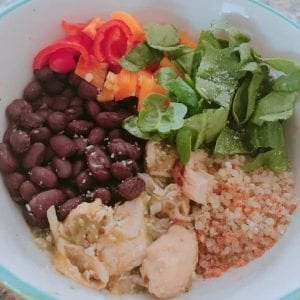 Mexi Quinoa Bowl (E)
This Mexican bowl is one of my go-to lunches because it's easy, healthy, and filling, so it gets me through my afternoons. I always have pre-cooked quinoa on hand so I can make this in a jiffy. I've used diced chicken, canned chicken, or sometimes I just leave out the chicken and eat it vegetarian style. It's great in all forms, and you can eat it hot or cold.
Ingredients
1/2

c.

pre-cooked quinoa

1/2

c.

black beans

1/2

c.

diced chicken

1

tsp.

cumin

1

tsp.

chili powder

1

tsp.

garlic powder

1

tsp.

avocado oil

A pinch of salt

Diced sweet mini peppers

A handful of spinach o kale

A sprinkle of parm cheese

Salsa to taste
Instructions
Pre-cook the quinoa and the chicken. I like to cook chicken in my instant pot with salsa and eat it throughout the week, and it works great with this recipe.

Dice the sweet mini peppers.

Heat up the black beans (optional).

Put the quinoa, chicken, and black beans in a bowl.

Season with Mexican spices.

Add diced peppers, spinach, avocado oil, and farm cheese on top.

Enjoy hot or cold!