Are you as excited as I am about the new THM Whey protein flavors? I wanted to try them all at once as shakes and then I just had to make gluccie pudding with each flavor- soo yummy! These FP puddings hit the spot as a light dessert after any meal. My sugar loving kiddos love them as well! You can find the basic gluccie pudding recipe in the Trim Healthy Mama Cookbook, page 351. This is my variation of that recipe.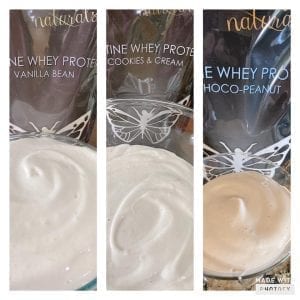 Gluccie Puddings: Cookie & Cream, Choco-Peanut, & Vanilla Bean
A quick light dessert that can be eaten after any meal. With so many different flavors to choose from, it's a dessert you'll never get tired of 🙂
Ingredients
Cookies & Cream:
2 1/2

c.

almond milk

1 1/2

t.

gluccie or xantham gum

1

T

super sweet

1

t.

vanilla

4

T.

cookies and cream whey protein powder
Choco-Peanut: *
2 1/2

c.

almond milk

1

T.

cocoa powder

1/2

c.

peanut flour

2-3

pinches

mineral salt

6

t.

super sweet

1 1/2

t.

gluccie or xantham

4

T.

chocolate whey protein powder
Vanilla Bean:
2 1/2

c.

almond milk

1 1/2

t.

gluccie or xantham

2

pinches

mineral salt

4

t.

super sweet

2

t.

vanilla extract

4

T.

vanilla bean whey protein powder
Instructions
Add all the ingredients in your blender & only 1/2 teaspoon of gluccie or xantham

Start your blender and blend for 30 sec or so

Add the remaining 1 t. of gluccie and blend for 1-2 minutes

Store in refrigerator

Top with a squirt of whipped cream, Lily's chocolate chips, berries for the vanilla or any of your favorite toppings!
These make yummy pudding pops as well if you have a popsicle mold
Notes
Unfortunately the choco-peanut flavored whey protein powder can no longer be made by THM because of rising costs, so I kept the same flavor for the choco- peanut pudding by using chocolate protein powder, upping the peanut flour and balancing it with more sweetener. If it still is not sweet enough for you, adjust to your liking 😉 
Have you tried the new THM whey protein powders?