Who else are Disney fans around here? I grew up going to Disneyland every year because my grandma worked at the Blue Bayou as a chef. She had passes so she invited us to come use them. Little did we know how spoiled & lucky we were. I would love to be able to take my kiddos to Disneyland each year. We had planned a trip the Spring Break that Covid happened so it has been on our list of things to do ASAP!
One of my friends posted about her trip to Disneyland and how the crowds were light & they had the best time! It inspired me to look up hotels and even flights. We found some great deals & within a week we were off to Disneyland!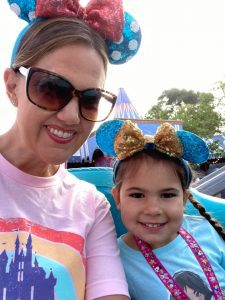 I wanted to share how I navigated my vacation while we were there. Notice, I didn't say how I stayed on plan 100%. My thoughts on vacations are that if you splurge a bit you make up for it by moving more. We walked at least 10 miles each day during the 2 days in the parks so I justified sharing some off plan desserts with my family. Another rule of thumb I have for myself while on vacation is to choose 1 off plan dessert & 1 off plan meal. The desserts were more appealing to me than eating off plan, so I decided to indulge in some XO's at restaurants, stick to the food I shopped for & share a few off plan desserts.
Anytime I travel, I plan ahead. We usually drive so I shop for food before we go, but since we were flying this time I had to think of a different solution. We didn't rent a car so instead of ubering to a nearby grocery store once we got to our hotel, I decided to put in my online grocery order to Walmart the night before we arrived for a time when we would be at the hotel. Since we didn't know our hotel room number ahead of time, I simply put the address of the hotel in care of my name. It worked like a charm! Our groceries arrived right on time and we got creative trying to find places to stash them. We had to improvise and use grocery bags as mini coolers filling them with ice, but it worked just fine 😉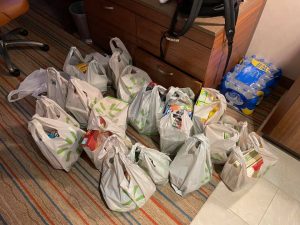 What I ate: For breakfasts, I had low carb egg sandwiches. You normally keep them in the freezer but we just had our mini fridge in the hotel and they kept great. I heated them up for whoever wanted them and also had cereal for the kiddos as well as fruit.
For lunches, I had low carb wraps & an apple or clementine, mini peppers or cucumbers & carrots & popcorners.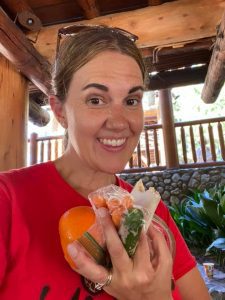 For snacks, I had homemade trail mix (lilys, mixed nuts, unsweetened coconut, & freeze dried strawberries) & protein bars (we used our extra protein bars to make the younger kids a little bit taller to be able to ride on some of the bigger rides, they were only a few cm short and Disney is very strict about their height policy, just a side note in case you want to use this trick 😉
We got treats to share the 2 days we were in the parks- the first day I shared a Ghiradelli shake with my hubby while our kiddos had sundaes and all 7 of us (we have 5 kiddos) shared a lemon dole whip/raspberry ice parfait at California Adventure.
At Disneyland, all 7 of us shared 2 pineapple dole whips from outside the Tiki Room & the grey stuff from Belle's Tavern and then my hubby and I shared a matterhorn macaroon- they are my absolute fave and so worth it!! My kiddos each got their own Halloween cookie.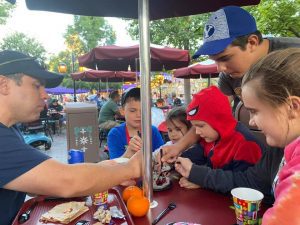 For dinners I had an S cobb salad the first night from the hotel, a XO taco dish from California adventure, an S salad from Belle's Tavern, & a XO lettuce wrap chicken sandwich with sweet potato fries at Olive Garden the last day we were there (Olive Garden was a mile walk from our hotel)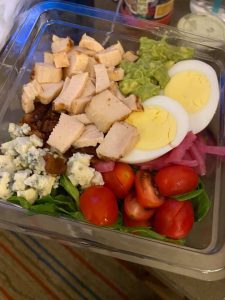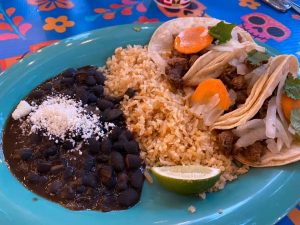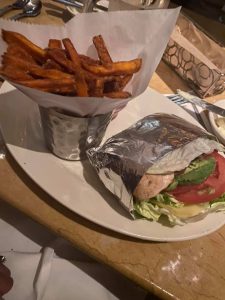 I found a good balance between enjoying myself, having some off plan treats I don't usually get but staying on plan for all my meals & getting in plenty of exercise. I came home, weighed the next day and had maintained my weight!! The old me would have been up at least 5 lbs after a vacation like Disney. I like planning ahead when I go on vacations because it saves me money, time & I don't feel icky and bloated while on vacation because I'm not eating a lot of junk. I also don't have to lose any extra weight when I get home. Wins all around!
How do you navigate vacations as a THMer? Do you have any tips you'd like to share?