Chicken Carbonara is one of my most frequently requested recipes from my family. It's a meal I can throw together quickly after being out and about &  everyone enjoys it. I make this carbonara with Dreamfields pasta. For some, Dreamfields pasta still spikes their blood sugar, so it's important to decide for yourself if your body can handle this type of pasta. I'm not here to debate the claims against Dreamfields pasta, but I do use it for my family. Regardless of your stance on Dreamfields pasta, Trim Healthy Mama suggests only having this type of pasta once a week.
Personally I only have it occasionally. I use zoodles or spaghetti squash more often & save Dreamfields for once in a while. So the good news is if you don't want to have the pasta, I have a zoodle or spaghetti squash version of this. You can turn this meal into an FP meal when you sub out the pasta for the veggies & lighten up the fat a bit:) Either way, it is delicious!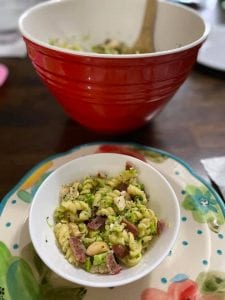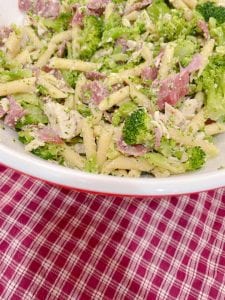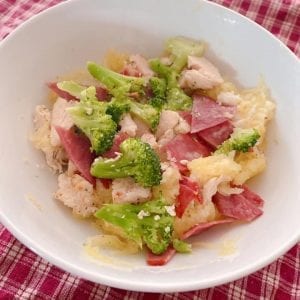 Low- Carb Chicken Carbonara (THM S, THM FP)
This a quick & easy comfort meal that will become a new family favorite!
Ingredients
2

cups

chicken

you can use pre-cooked grilled chicken or simply cook chicken in your instant pot

2

cups

steamed broccoli

1

box

dreamfields pasta

1

package

turkey bacon

you can use regular bacon if you like, but I prefer turkey bacon

2

T.

butter

1/4

c.

parmesan cheese

1

egg

2

t.

garlic seasoning

2

t.

mineral salt
FP Carbonara (individual size):
1

wedge

light laughing cow cheese

1

c.

zoodles or spaghetti squash

1

T.

egg whites
Instructions
Cook chicken in an instantpot. Tenderloins cook up really quickly. Just use 8-10 tenderloins, cover with 2 cups of water & set your instant pot to poultry mode. It should be done in less than 20 minutes. You can also use pre-grilled chicken.

Lay out the turkey bacon on a pre-greased sheet pan & cook in the oven at 375 for about 10 minutes or until the sides crisp up a bit.

Cook pasta according to box instructions.

Steam broccoli in the microwave by covering a microwave safe bowl with a wet paper towel. If is frozen broccoli, cook for 5 minutes and stir. Then cook for another 2-3 minutes.

Dice chicken once fully cooked.

Dice turkey bacon once fully cooked.

Dice broccoli once fully cooked.

As soon as the pasta is done cooking, strain out the water. Then immediately whisk in 1 egg. You must do this while the pasta is still hot so it cooks the raw egg.

Add parmesan cheese, butter, salt, & garlic.

Add the diced chicken, bacon, & broccoli.

Serve the dish all together in one bowl!
For FP Carbonara:
This recipe is for an individual, in case you want to have carbonara with your family but you'd rather sub out the pasta for zoodles (zucchini noodles) or spaghetti squash.

Save some diced bacon, broccoli, & chicken to the side.

Heat up zoodles or spaghetti squash. (I pre-make spaghetti squash when I plan this dish)

Whisk in 1 T. egg whites.

Add 1 wedge of light laughing cow cheese, a sprinkle of salt, garlic, & parmesan cheese from the green can.

Add in diced chicken, broccoli, & a small amount of turkey bacon.

You can enjoy carbonara as an FP meal this way 🙂
Notes
If you'd like to make a family size FP friendly meal using spaghetti squash simply substitute out the pasta with the squash, whisk in 1/4 c. of egg whites, & use 6 wedges of laughing cow cheese. Omit the butter & 1 egg. 
The featured picture is the FP version using spaghetti squash. I ate this on one of my FP days during my fuel cycle. You can read my fuel cycle post here: How I lost 5 lbs. in 1 week doing a fuel cycle.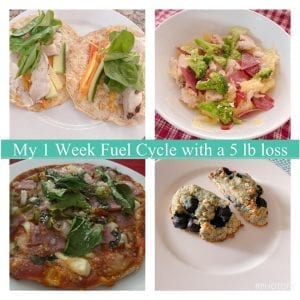 I'd love to hear from you, are you a chicken carbonara fan?