Mexican food is one of my family's favorites! Everyone loves Mexican night over here. My MIL makes some amazing white enchiladas so I thought I would try my hand at making a THM version of them.
This creamy white sauce is THM & low carb friendly. One of the major swaps I did was replace enchilada sauce with Salsa Verde. The ingredients are much purer & the taste is better in my opinion. My whole family agreed that they turned out delicious, & my husband gave them 10 out of 10 so I call that a win!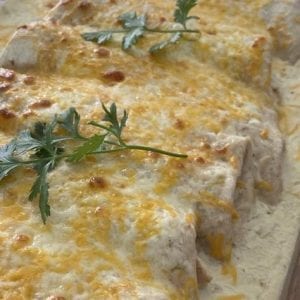 Low-Carb Creamy Enchiladas (THM S, keto friendly)
A family favorite enchilada recipe with a white creamy sauce
Ingredients
3 1/2

c.

shredded chicken

3 1/2

c.

mexican cheese blend

16

ounces

light sour cream

8

ounces

1/3 fat cream cheese

1

c.

chicken broth

1

c.

fresh cilantro diced

6

large low carb tortillas

8

small low carb tortillas

16

ounces

salsa verde
Instructions
Spray a 9X13 pan & a 7 x11 rectangular pans with coconut or olive oil spray

Make the chicken in an instant pot by adding 8-10 frozen tenderloins, 2 cups of water & some garlic seasoning. Close the lid and set to poultry mode

While the chicken is cooking, make the sauce
Sauce
Add cream cheese, sour cream, chicken broth, & 1 cup salsa verde to a large skillet

Mix with a silicon whisk & cook on medium high heat until smooth
Chicken Mixture
Once the chicken is finished in the instant pot, shred & transfer to a mixing bowl

Add 2 cups mexican cheese & 1 cup salsa verde & mix with the chicken
Enchilada Assembly
Put your sauce skillet next to your chicken mixture on a clear space ready for assembly near the sprayed pans

Spread 1 cup sauce on the bottom of each pan

Stack low carb tortillas on a plate

Assemble the large low carb tortillas first by spreading 3/8 cup chicken filling & 1/8 c. creamy sauce in the center of the tortilla. Roll like a burrito & place in 9 X 13 pan seamside down

Repeat this step for all large low carb tortillas

Assemble the small low carb tortillas next. Fill with 1/4 c. chicken filling & a scant 1/8 c. sauce, roll like a burrito, & put in the smaller pan seamside down. Repeat until all 8 tortillas are used up.

Spread the remaining creamy sauce over both pans with a spatula

Sprinkle the remaining 1 1/2 c. cheese over the enchiladas in both pans
Cooking
Cover with foil & bake enchiladas for 30 minutes

Remove foil & broil at 425 for 5 minutes or until the cheese is golden brown
Serving
Serve the enchiladas immediately with some greens on the side

Enjoy 1 large enchilada or 2 small ones for a nice S meal
Notes
I like to do a mix of large & small tortillas because the portion size of the smaller ones is just perfect for my littles & sometimes it's more fun to eat 2 smaller enchiladas vs. 1 larger one! 
What is your favorite enchilada recipe?