It's the Most Wonderful Time of the Year! Which means Peppermint everything!! Peppermint is a natural remedy for soothing upset stomachs, but I love as many peppermint desserts as I can get 🙂 Cheesecake is one of my favorite desserts, so I just had to create a no bake peppermint cheesecake. This is a breeze to whip up and fancy enough to take to any holiday gathering or serve it at your holiday meal.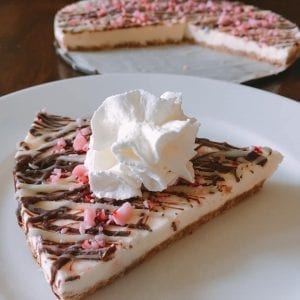 No Bake Peppermint Cheesecake (THM S)
If you need an elegant, but quick and easy dessert to take to holiday gatherings or to serve at your holiday meal, this peppermint cheesecake is perfect!
Ingredients
Crust:

1

c.

almond flour

2

T.

melted butter

3

T.

gentle sweet

1

t.

cocoa

Filling:

8

oz.

1/3 fat cream cheese

1/2

c.

cottage cheese or greek yogurt

2/3

c.

gentle sweet

1

t.

vanilla

1-2

t.

peppermint extract

depending on how pepperminty you want it

1

T.

gelatin

1

c.

water

Drizzle:

1/4

c.

each white chocolate

dark chocolate, and milk chocolate Bake Believe Chocolate Chips or any chocolate chips of your choice

1-3

t.

coconut or avocado oil

Topping:

Sugar Free Peppermints

optional, but really good!
Instructions
Preheat the oven to 350

Use the base of your springform pan to cut a circle out of parchment paper

Place the parchment paper in the bottom of the springform pan & spray with olive oil or coconut oil

In a small bowl, combine the almond flour, butter, gentle sweet, and cocoa with a fork

Put the crust in the preheated oven for 7 minutes (after it comes out, put the baked crust still inside the springform pan on a plate and let it cool down in the fridge or freezer

Boil the cup of water (you can do this on the stove or simply microwave for 5 minutes)- the water will boil down to about ¾ c.

Meanwhile, combine all of the filling ingredients (except the water and gelatin) in a blender (I love my ninja!) and blend well, using a spatula to scrape the sides. Set aside.Once the water is boiled, little by little sprinkle to gelatin into the boiling water constantly whisking it in to avoid any clumps

Pour the gelatin mixture into the rest of the filling mixture and blend well (you can wait until the gelatin mixture cools a bit if you want, but don't wait too long)

Pour the filling into a cooled down crust

Refrigerate for 3-4 hours

Make the chocolate drizzle by adding 1 tsp of oil to each type of chocolate, microwaving the chocolate at 50% for 1 minute at a time and stirring the chocolate in between until nice and smooth.

Use a fork to drizzle the chocolate on top

Crush peppermints and sprinkle on top

Using a butter knife or small knife, separate the pie from the springform pan by cutting along the edges of the pie before releasing the springform pan

Serve with whipped cream
It's even better the next day!