Fall is in the air! My mom and I have been having so much fun creating pumpkin goodies & can't seem to get enough of them. A no bake pumpkin cheesecake we enjoyed when we were on weight watchers inspired us to create a THM version. Ditch the graham crackers and bring on the almond flour! My kiddos love this (even my non-cheesecake loving daughter) & it's so easy to make! It just might be the perfect addition to your fall desserts and Thanksgiving meal!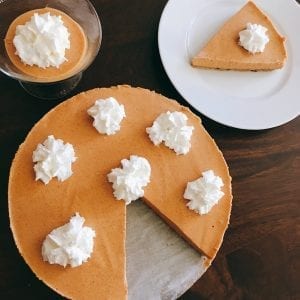 No bake Pumpkin Cheesecake (THM S)
If you want a quick and easy dessert that you don't have to bake (except the crust) then this tasty no bake pumpkin cheesecake just might be the perfect addition to your fall season and Thanksgiving feast.
Ingredients
Crust:

1

c.

almond flour

2

T

melted butter

2

T

gentle sweet

1

t.

cinnamon

Filling:

1

c.

pumpkin

8

oz

1/3 fat cream cheese (softened

1/2

c.

cottage cheese

2/3

c

sweetener

you can use less according to your sweetness preference

1

t.

cinnamon

1

T.

pumpkin pie spice

1

t.

vanilla

1

T.

Gelatin

1

c.

water
Instructions
Preheat the oven to 350

Use the base of your springform pan to cut a circle out of parchment paper

Place the parchment paper in the bottom of the springform pan & spray with olive oil or coconut oil

In a small bowl, combine the almond flour, butter, gentle sweet, and cinnamon with a fork

Put the crust in the preheated oven for 7 minutes (after it comes out, put the baked crust still inside the springform pan on a plate and let it cool down in the fridge or freezer

Boil the cup of water (you can do this on the stove or simply microwave for 5 minutes)- the water will boil down to about 3/4 c.

Meanwhile, combine all of the filling ingredients (except the water and gelatin) in a blender (I love my ninja!) and blend well, using a spatula to scrape the sides. Set aside.

Once the water is boiled, little by little sprinkle to gelatin into the boiling water constantly whisking it in to avoid any clumps

Pour the gelatin mixture into the rest of the filling mixture and blend well (you can wait until the gelatin mixture cools a bit if you want, but don't wait too long)

Pour the filling into a cooled down crust

Refrigerate for 3-4 hours

Using a butter knife or small knife, separate the pie from the springform pan by cutting along the edges of the pie before releasing the springform pan

Serve with whipped cream 🙂

It's even better the next day!
You can also make this crustless by simply pouring the filling into glass dessert cups & keeping them refrigerated for when you want a pumpkin treat:)