We're a week away from Christmas & my kiddos get more & more excited each day! They also seem to come home with more and more treats from school each day- oy! Temptations are all around this time of year. If you know me, you know I love anything with peppermint & chocolate. I wanted to create an on plan peppermint bark with a crunch so it had more substance. I created the crunch with Wasa crackers & this peppermint bark crunch recipe definitely did the trick. My kiddos who have been eating sugar (too much lately) also love it! For the most part, I don't let them have my sugar -free treats unless they haven't had sugar for the day, so my 13 yo son said he's skipping sugar tomorrow so he can have more. That's a win in my book! Not only is it tasty, but it's also super easy to make so if you're short on time (which most of are during the holidays) you'll love the simplicity of this treat.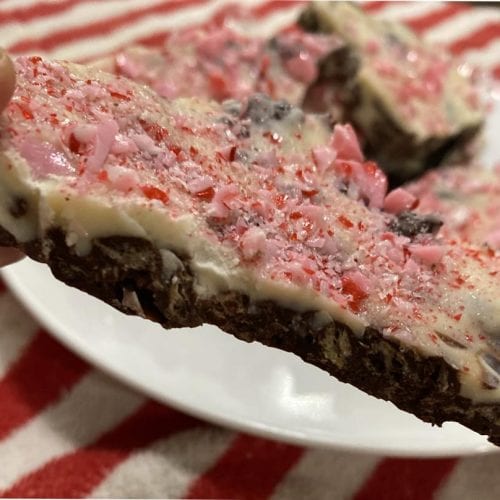 Peppermint Bark Crunch (THM S, low carb, keto)
A quick and easy healthy version of the beloved peppermint bark with a crunch 🙂 Perfect for the Christmas season when you're short on time & need something to help you avoid temptations.
Ingredients
6

light rye wasa crackers

8

ounces

Lily's chocolate chips (I prefer semi- sweet for this)

7

ounces

Lily's peppermint white chocolate chips

you can also use sugar free white chocolat chips & add 1/4 tsp. peppermint extract

4

t.

avocado oil

you can also use coconut oil but I like the mild taste of the avocado oil

8

sugar free peppermints

*optional
Instructions
Melt the chocolate chips & 2 tsp avocado oil in a microwavable safe bowl for 3 minutes, 1 minute at a time at 50 % power or until chocolate is smooth. Make sure to stir in between each minute.

Crush light rye wasa crackers & mix into the melted chocolate

Spray an 8 x 8 pan or line with parchment paper

Using a spatula, spread the wasa crackers and chocolate layer until spread evenly on the bottom of the pan

Melt the white chocolate chips & remaining 2 tsp. avocoado oil for 2 minutes at 50 % power 1 minute at a time stirring after each minute

Gently spread the white chocolate over the chocolate layer (you can freeze the chocolate layer first to make spreading the white chocolate easier but I didn't do this)

Crush the sugar free peppermints if desired and sprinkle on top

Freeze the peppermint bark for at least 20 minutes before serving

Cut with a sharp knife & enjoy!
Have you tried THM peppermint bark yet? What are your favorite THM holiday treats?