Our new favorite tradition is to have Mexican food for Game Day! Mostly because our neighbors' daughters sell their amazing homemade salsa as a cheerleader fundraiser on Super Bowl weekend every year. It's been a tradition to either have nachos or enchiladas or both so we have an excuse to eat their yummy salsa! This year we did both. I got some pork rinds for a THM, low carb version of nachos and then I made up some easy yummy salsa enchiladas. Here's the recipe for a quick meal anytime of the week or if you're hosting friends and family.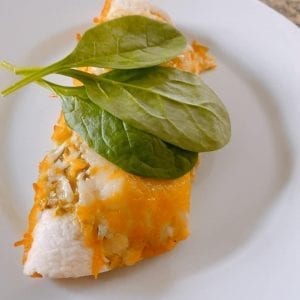 Chicken Salsa Enchiladas (THM S)
I use my instant pot to make moist, flavorful chicken as the base for these quick and tasty enchiladas which are great for any day of the week or to serve your friends and family.
Ingredients
10-12

chicken tenderloins

1

jar of salsa verde

1

jar of pico de gallo or fresh red salsa

with cilantro

12

low carb tortillas

1

can black beans

3

cups

Mexican style cheese

Garlic Powder

Sea Salt

2

limes
Instructions
Prepare chicken by putting frozen chicken tenderloins in an instantpot (or crock pot) with 1 cup red salsa and 1 cup salsa verde. Add some salt and garlic powder to taste. Press the poultry button on the instant pot or cook on high for 3-4 hours in a crockpot

Preheat the oven to 375

Spray a 9x13 pan with coconut oil or olive oil spray

Once the chicken is done, shred with a fork and transfer to a bowl

Add 1 cup of red salsa, black beans (drain and rinse first), 1 cup of mexican cheese. the juice of 2 limes, and garlic powder and sea salt to taste to the shredded chicken

Set two plates side by side next to the 9x13 pan and place the tortillas on top of one of the plates

One at a time, transfer the tortillas over to the 2nd plate, add in about 1/2 cup of chicken mixture, a spoonful of red salsa and a sprinkle of cheese, roll the enchilada up and put it in the pan seam side down

Repeat this process until all of the tortillas are used up

Spread some salsa verde on the top of all of the tortillas and then sprinkle with the remaining mexican cheese

Cover the pan with foil and cook for 25 minutes

Uncover the pan and cook for an additional 5- 7 minutes or until the cheese is good and melted

Serve with your favorite salsa!
What's your favorite Mexican food?