I believe!!! I was thrilled to find the new Bake Believe chocolate chips at my local Walmart. I checked both my Walmarts, and only the neighborhood "Smallmart," as we like to call it, carries them. I couldn't wait to get home and whip up a THM version of one of my favorite cookies!! When I found out there was a sugar free version of white chocolate chips we could have on plan, my mind immediately went to White Chocolate Macadamia Nut Cookies!! Pre-THM, the Costco ones were my favorite, so of course I had to invent a THM friendly version.
I used my mom's chocolate chip recipe for the base and then simply added in 4 oz of macadamia nuts. I also subbed out some vanilla extract for coconut–so yum! And because the white chocolate chips seem to disappear as they cook, I added 1/4 c. in the batter for their yummy flavor and then put a few on top of each cookie right after they came out of the oven. I made 3 different versions: 1 with no coconut, 1 with coconut just on top of the cookie, and 1 with coconut in the batter and on top of the cookie. Hands down the one with the most coconut was a favorite among all of my kids and my hubby (except my son who doesn't like coconut at all. Shh…don't tell him I still put some extract in the cookies with no visible coconut, and he still liked them;)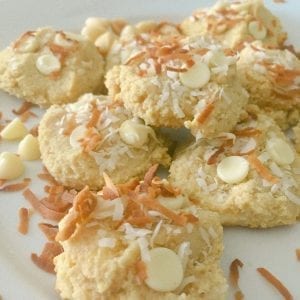 White Chocolate Macadamia Nut Cookies (THM S)
These THM friendly white chocolate macadamia nut cookies will become one of your new favorites! They are as tasty as the Costco ones but won't hurt your waistline. They are perfect for an end of the summer luau or just to have on a warm summer evening.
Ingredients
Dry:

1

c.

almond flour

1

c.

baking blend

1/2

tsp.

baking soda

1/2

t.

gluccie or xantham gum

Wet:

1/2

c.

butter

softened

2

eggs

1/2

T.

coconut extract

1/2

T.

vanilla extract

1/3

c.

gentle sweet

Add ins:

4

oz

macadamia nuts

1/2

c.

Bake Believe white chocolate chips

3/4

c.

unsweetened coconut
Instructions
Preheat oven to 350

Toast 1/4 c. coconut in the oven for 3-5 minutes until brown- do not overcook

Mix all the dry ingredients together

Cream the wet ingredients together

Stir the dry into the wet

Add in the add-ins: the remaining 1/2 c. coconut (not the toasted coconut), 1/4 c. white chocolate chips and the macadamia nuts

Drop the batter by spoonfuls onto a greased cookie sheet

Flatten with palm of hand

Bake for 5 minutes, then flip the pan around and bake for another 4 minutes

Immediately add 3-4 white chocolate chips on the top of each cookie, pressing just hard enough to insert the white chip without breaking the cookie

Sprinkle toasted coconut on top

Let them rest on the baking sheet for a few minutes

Best eaten right after baking or after refrigerated

Makes 3 dozen
These are even better after they've been in the fridge, and they are a fun summer treat that will allow you to escape to Hawaii! Aloha and enjoy!!