Valentine's Day is coming up! My favorite tradition is to make my no-bake raspberry cheesecake, but I wanted to make something quick & easy this year so I decided to try cheesecake stuffed strawberries. My 3-year-old helped me & although it took longer with her, we had fun & whipped these up in under 10 minutes 🙂 When my other kiddos got home from school, it was I could do to keep them from devouring the plate of strawberries that I was trying to photograph. So if you want really quick & easy then these 3-ingredient cheesecake stuffed strawberries are for you 😉 To be fair, I didn't count the strawberries as on of the ingredients & the chocolate drizzles is just a bonus 😉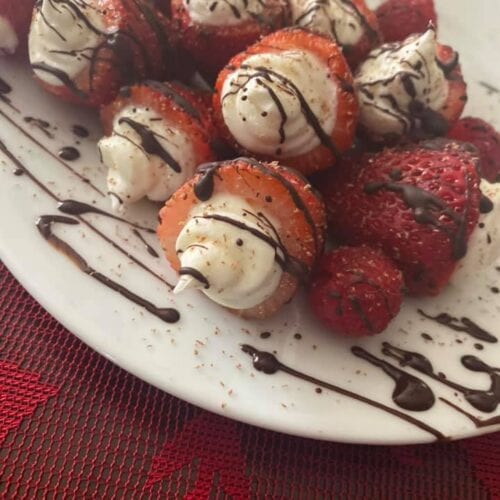 3-ingredient cheesecake stuffed strawberries (THM S, low carb, keto)
When you're short on time, but you want something that's impressive & decadent for Valentine's Day or any special occassion, then these healthified cheesecake stuffed strawberries are perfect for the occasion!
Ingredients
16

ounces

fresh strawberries

8

ounces

reduced -fat cream cheese

softened

1/4

c.

gentle sweet

or any powdered sweetener equivalent

1/2

tsp.

almond extract

or vanilla

1/4

c.

Lily's dark chocolate chips

to drizzle (optional)
Instructions
Wash & dry the strawberries & set on a plate

Using a paring knife, cut the stems off & cut out the middles of the strawberries

Make the filling by mixing the softened cream cheese, sweetener, & extract in a bowl with an electric mixer until well combined (1-2 minutes)

Spoon the cream cheese mixture in a sandwich baggie & seal it

Cut off the end of the baggie & pipe the cream cheese filling into the strawberries

If desired, melt 1/4 c chocolate chips in the microwave for 30 seconds at a time @ 50% power unti melted, stirring after each 30 second interval

Use a fork to drizzle over the strawberries

Keep in the fridge until ready to serve
Notes
You can also use raspberries with this recipe 🙂 
Here's the plain version: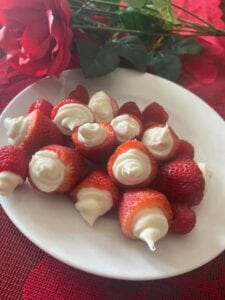 These are still tasty without the chocolate, but if you like the strawberry/chocolate combo then you'll love it!
Speaking of berries & chocolate, if you want an elegant but easy no-bake cheesecake, check out my no-bake raspberry cheesecake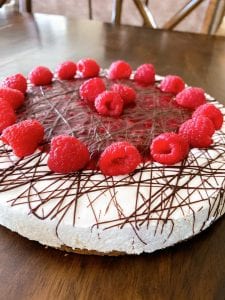 What is your favorite on-plan V-day treat? What are you going to make this year?