Yay for pumpkin season! I'm so excited about this pumpkin pudding!! When my 3rd baby was born in September I wanted pumpkin everything. My sweet mom was so good about making me pumpkin pancakes and pumpkin goodies while I recovered. I don't love pumpkin year-round but when it's pumpkin season, I sure do!! Sadly pumpkin has been hard to find in stores lately. Some say there is a pumpkin shortage this year, but I found some info to debunk that myth. The crops are just delayed because of rain but there is supposed to be enough just in time for Halloween & there will be plenty for Thanksgiving. In the meantime, it's easy enough to make your own. You can read the info. here: Pumpkin Delay & how to make your own 
While I do love my S desserts, I love having FP desserts on hand so I don't overdo the S desserts. One of my favorites is gluccie pudding. So of course I had to make some pumpkin gluccie pudding. My husband said it tastes just like pumpkin pie & the best part is you can have it anytime with any meal. Definitely a winner in my book!
I love having pudding in my fridge at all times for a quick and easy FP dessert I can enjoy any time. When the new THM protein powders came out, I had fun experimenting with different pudding flavors. Here are the recipes for my vanilla bean, choco-peanutty, & cookies & cream gluccie puddings.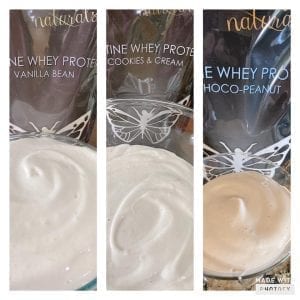 Are you a gluccie pudding fan? What is your favorite?