Yay for pumpkin season! I'm so excited about this pumpkin pudding!! When my 3rd baby was born in September I wanted pumpkin everything. My sweet mom was so good about making me pumpkin pancakes and pumpkin goodies while I recovered. I don't love pumpkin year-round but when it's pumpkin season, I sure do!!
While I do love my S desserts, I love having FP desserts on hand so I don't overdo the S desserts. One of my favorites is gluccie pudding. So of course I had to make some pumpkin gluccie pudding. My husband said it tastes just like pumpkin pie & the best part is you can have it anytime with any meal. Definitely a winner in my book!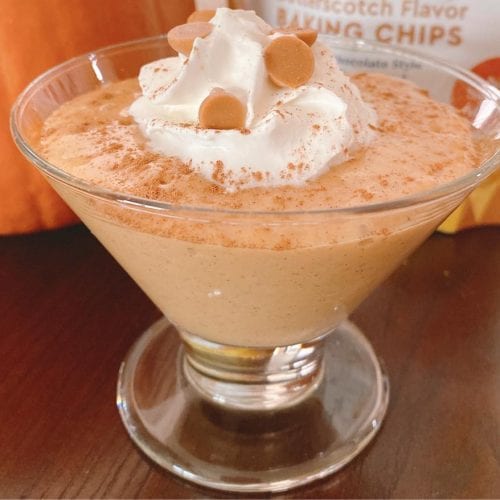 5-minute Pumpkin Pudding
A quick & easy fall dessert that you can eat anytime with any fuel 🙂
Ingredients
2 1/2

c.

unsweetened almond milk

1/2

c.

pumpkin

*pure pumpkin, not the pumpkin pie filling

1

t.

vanilla

1

t.

pumpkin pie seasoning

4

t.

super sweet

or a sweetener eqivalent

1 1/2

t.

gluccie or xantham
Instructions
Add all the ingredients in your blender & only 1/2 teaspoon of gluccie or xantham

Start your blender and blend for 30 sec

Add the remaining 1 t. of gluccie and blend for 1-2 minutes

Pour in a glass container & refrigerate for at least an hour before enjoying

Top with a squirt of whipped cream, Lily's chocolate chips (the pumpkin spice flavor is yummy on this), & sprinkle with more pumpkin pie spice, nutmeg or cinnamon
I love having pudding in my fridge for a quick and easy FP dessert I can enjoy any time. When the new THM protein powders came out, I had fun experimenting with different pudding flavors. Here are the recipes for my vanilla bean, choco-peanutty, & cookies & cream gluccie puddings.
*Unfortunately because of cost THM had to stop making the choco-peanut protein powder, which was my fave, so I tweaked this recipe using chocolate protein powder.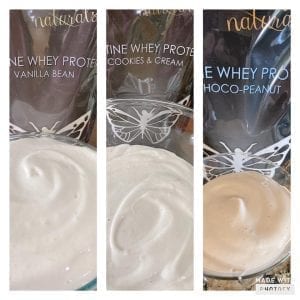 Are you a gluccie pudding fan? What is your favorite?