It's pie season! And while most of us think about pumpkin, apple and pecan pie this time of year, in my opinion there's no pie that's off the table (pun intended 😉 My hubby and & I met in Hawaii, he grew up there & I lived there for 7 years so it has a special place in our lives. With my husband's current job, he gets to go back annually and I often go with him. One of our favorite desserts to eat there is chocolate-haupia pie from Ted's Bakery. It combines two of my favorite flavors in a delicious creamy pie! Our church recently put together a missionary dinner night to help our youth practice being missionaries. We volunteered to be the Hawaii house so we definitely had to make chocolate haupia pie. My hubby made the regular version for the youth & I wanted to try my hand at a sugar free version. I gave some to one of my friends and she said that if I hadn't told her, she would not have known it was sugar free. I'm excited to have a sugar free version of one of my favorite pies!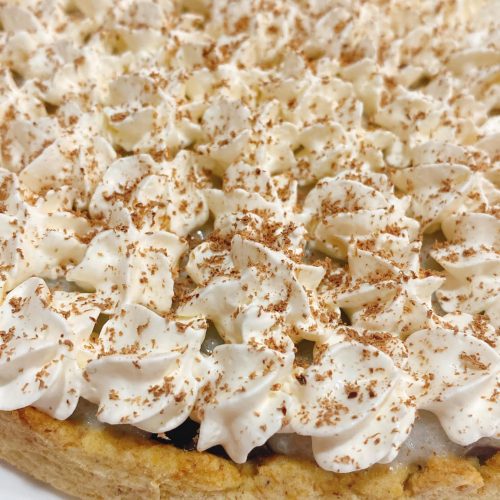 Chocolate Haupia Pie (THM S, low carb, keto)
A lightened up version of the well loved chocolate-haupia pie
Ingredients
1

can

lite coconut milk

1

c.

unsweetened almond milk

1/2

c. + 1 T.

gentle sweet

or 3/4 c. of a powdered sweetener not sweetened with stevia

1 1/2

T.

xantham or gluccie

1

c.

sugar free chocolate chips

2

t.

coconut oil
Cream Topping:
1

c.

heavy cream

1/4

c.

gentle sweet

1

t.

vanilla

1

t.

coconut extract

(optional but yummy)
Crust:
2/3

c.

THM baking blend

or almond flour

2/3

c.

NCEB mix

or use an additional 2/3 baking blend or almond flour

1/4 c.

+ 2 T.

softened butter

1

egg

1/2

c.

water

1/4

t.

mineral salt

1

T.

gentle sweet
Instructions
Crust:
Use a mixer to blend all the ingredients but the water until it becomes crumbly

Slowly add in water until the dough sticks together

Place the dough on top of parchment paper, add another piece on top & roll out until about1/4 inch thick

Take the top parchment piece off the dough & flip the dough on the other piece of the parchment paper over & into a greased pie pan

Carefully remove the 2nd piece of parchment & press the dough into the pie pan

Flute the edges as desired

Using a fork, poke several holes in the crust to prevent bubbling while cooking

Bake for 10-12 minutes or until the edges are brown and the middle is firm
Pie Filling:
Whisk together coconut milk, almond milk and sweetener in a medium saucepan to create the haupia

Slowly add in xantham or gluccie, 1/2 T. at a time, whisking vigorously

Reduce heat & whisk for 6 minutes or until thickened

Melt the chocolate chips with the coconut oil in the microwave a minute at a time at 50% power until the chocolate is smooth

Combine half the haupia mixture to the melted chocolate

Spoon the chocolate/haupia layer into the cooled pie crust & smooth out with a spatula

Spoon the rest of the haupia on top of the chocolate/haupia layer & refrigerate

30 minutes to an hour before serving the pie, make the cream topping. Add the cream and 1/4 c. gentle sweet to a frozen bowl and beat until stiff peaks form.

Pipe cream on top of the haupia layer and use a microplane to grate sugar free chocolate on top
I may need to make another for Thanksgiving in addition to my No- Bake Pumpkin Cheesecake 🙂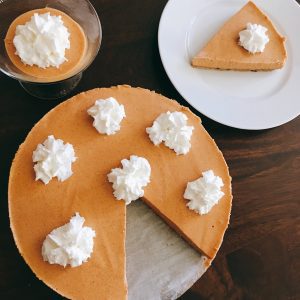 What is one of your favorite pies? What are you planning on making for Thanksgiving?