Lemon is one of my favorite flavors! It reminds me of Easter and Spring and all things warm!! With it being February in Utah right now, that sounds pretty amazing!! My mom loves lemon & especially lemon desserts so that's likely where I get it from. Our local Walmart has Smart Cakes in their healthy freezer section. My favorite flavor is Lemon & for us THMers, they are an FP which is fantastic because they are a light dessert! Win/win! The only downside is they are pricey, so I thought I would try my hand at making my own. The frosting on these FP Lemon Cupcakes is amazing & really makes the whole cupcake, so they are a must!!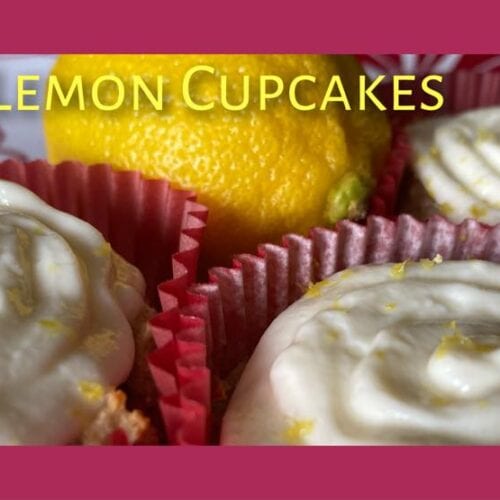 FP Lemon Cupcakes (keto, low carb)
A healthy version of a lemon cupcake with a tart lemon frosting that will knock your socks off!
Ingredients
2

c.

THM baking blend

1/4

c.

gentle sweet

or sweetener alternative

1/2

c.

applesauce

yes it's an E food, but spread out among 18 cupcakes it's fine to use in an FP cupcake

1

egg

6

T.

egg whites

1/2

c.

greek yogurt

1/3

c.

unsweetened almond milk

2

t.

baking powder

1

t.

vanilla

3

T.

lemon juice

2

T.

lemon zest

optional but so yummy!

1/2

t.

lemon extract

you can omit the lemon juice and just use 1 t. lemon extract in total, but the flavor with the juice is better! However, you will need to add some more almond milk (2 1/2 T)so the batter is the right consistency.
Lemon Frosting:
8

light laughing cow cheese wedges

1/2

c.

greek yogurt

1/4

c.

gentle sweet

2

T.

lemon juice

1/4

t.

lemon extract

lemon zest

optional
Instructions
Set 18 cupcake liners in a cupcake pan & spray with non-stick olive oil or coconut oil spray. Set aside. Fill the empty cupcake holes with no batter with water to even out the baking.

Mix dry ingredients in a mixer, then add the wet. Mix well

Scoop the batter into the cupcake liners & bake for 20-25 minutes
Lemon Frosting:
While the cupcakes are baking, make the frosting

Mix laughing cow cheese wedges & greek yogurt together with a hand mixer until well combined

Add the sweetener, lemon juice, & extract until well combined

Spread the icing or pipe the icing on the cupcakes once they are cooled

Zest lemon zest on top to make them look appealing & for more of a lemon flavor!
Notes
*If you pipe the frosting then you'll use more of it on one cupcake, although it will look nicer.
**You can smooth the frosting out more by adding 1 T. almond milk
***The batter is not quite as wet as a cake batter but its wetter than a dough batter. You can add some more almond milk if it looks too thick.  (I'd only do 1 T.)
I love the flavor of these FP cupcakes. All of my kids thought the frosting was cream cheese, they were shocked when they found out I used Laughing Cow Cheese 🙂 What are your favorite FP desserts? One of my favorites & my kids would agree, is my strawberry sorbet. You don't even need an ice cream maker for this! FP Strawberry Sorbet