Pizza is one of my families' favorite meals! Our tradition is a pizza & movie night every Friday 🙂 Whoever chooses the movie, gets to also choose the ice cream flavor. I always make homemade THM friendly ice cream too 😉 My family loves this tradition! Sometimes I make a cauliflower crust or the perfect pizza crust from the Trim Healthy Cookbook, but if I want quick & easy, I simply make a pizza out of a Joseph's Lavash. I can find Lavash at my local Walmart, but I know not all Walmarts carry them. You can ask your manager if they'd be willing to get them in- you'd be surprised, a lot of them are willing to work with you or you can use a low carb tortilla.
You can make this pizza your own by adding your favorite toppings. If you add pineapple, however, it will make this pizza crossover unless you go very light on the cheese. You can also make this an FP (low carb/low fat) but using lean deli meat or light turkey bacon, laughing cow cheese, and a shredded light string cheese for the topping.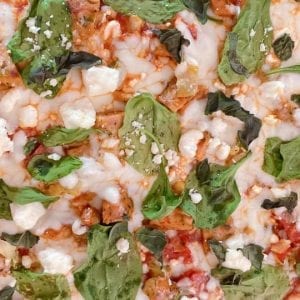 Healthy Pizza in under 20 minutes (THM S, FP; low carb, keto)
This is the fastest healthy pizza you can make! The crust crisps up really nice & you can add any toppings you like 🙂
Ingredients
1

Josephs' Lavash

or a low carb tortilla

1/4

c.

Great Value Pizza Sauce

or any sauce under 2 sugars/serving

1/4

c.

onion & peppers seasonings blend

or make your own

1/2

c.

mozarella

1

nitrate-free italian sausage

handful of spinach

fresh basil

to taste
Instructions
Preheat oven to 425 degrees

Sautee seasonings blend or diced onions & peppers

Dice up sausage & sautee with onions & peppers

Add sauce on top of Lavash

Sprinkle on cheese

Add the rest of the ingredients, topping with the fresh basil at the end

Bake pizza for 8-10 minutes or until the edges are golden brown and crispy, do not over cook!

Let the pizza rest on the pan for about 5 minutes before serving

Slice with a pizza cutter & enjoy!
Notes
For an FP pizza, top the pizza with 1 wedge of light laughing cow cheese & light sauce on top of the LCC. Shred a light string cheese for the cheese topping. Use non-fat deli meat or even some diced lean turkey bacon & sauteed veggies, but don't use butter to sautee veggies.
The Joseph's Lavash I have is  6 grams of net carbs/serving which is 1/2 a lavash. It's safe to have 1/2 a pizza, but if you're hungry you can have 2/3-3/4 of the Lavash.
If you don't have lavash, you can always use a low-carb tortilla but I prefer the Lavash crust for the taste & texture (it crisps up nicely) 
What are your favorite pizza toppings?