Memorial Day is just around the corner. It's not only a day to celebrate and honor those who fought for our freedom, but it's also a day to get together with family & friends to celebrate the start of summer. For some, it's an excuse to indulge a bit, but for many, they want to find healthy recipes that they can enjoy but will still help them stay on track with their health goals.
I want to share a few of my favorite recipes for summer BBQs or get-togethers. BBQs often involve some kind of meat such as burgers, hot dogs, or steaks. While it's easy to eat these low carb without the bun, it's often nice to eat them with a salad. While potato salads are popular at BBQ's they are not weight loss friendly.  Traditional green salads are fine, but I love having this quick & easy coleslaw salad. It hits the spot every time! I love using Olive Garden dressing with this, but feel free to choose any dressing you'd like that is under 2 grams of sugar/ serving. The tangy ones are better in this recipe though.
Coleslaw Salad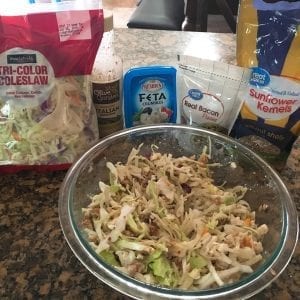 On these kinds of occasions, I also love to have a refreshing dessert. This no-bake cheesecake does the trick! The cream cheese & fresh fruit are the perfect combination of indulgent and refreshing. You can make this crustless and just serve it in individual dishes. For Memorial Day or 4th of July I like to make an American Flag out of the berries. I like to make this dessert the day of because it holds its shape better. It will still taste just as good the next day, however. Another option is to freeze it and then thaw it in the fridge for several hours before your get together.

No-Bake Patriotic Cheesecake Recipe
The last recipe I want to share is a quick & easy, but healthy pizza recipe for those who may not want to bbq but want to celebrate just the same. Pizza is great for any occasion, so why not have it on Memorial Day?
Healthy Pizza in 20 minutes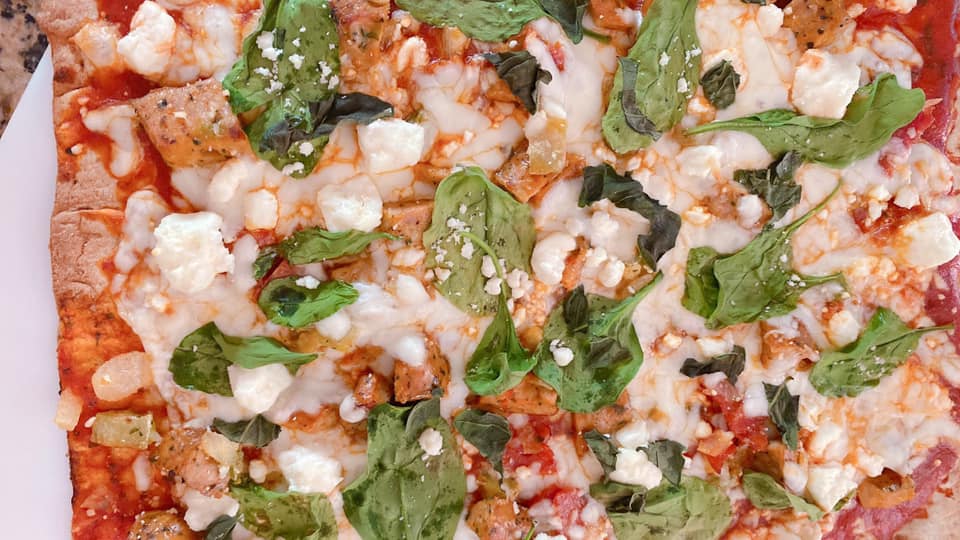 I make this particular recipe with Joseph's Lavash. I love Joseph's because it crisps up nicely & is a wonderful drive thru-sue option. I can find Joseph's products at my local Walmart, but I know not everyone carries them. You can order them online or simply use a low carb tortilla. There are also a lot of low carb crusts you can make like fathead pizza or cauliflower crusts.
I love to top mine in different ways to change it up, but these are my favorite toppings- low sugar pizza sauce (I use Great Value brand), low-moisture mozzarella cheese, no-nitrate Italian sausage, sauteed peppers & onions, spinach, & fresh basil. You can make your own pizza sauce with fresh tomatoes, but I like to have a quick & easy storebought option.
Holiday Tips:
You can certainly go off plan from time to time, but for a lot of us veteran THMers we've learned that it simply isn't worth it. Here are my tips for Staying on Plan during a holiday:
1. Drink plenty of water throughout the day





2. Choose lighter meals like Deep S or FP meals & snacks before your main meal





3. Portions matter! Even if something is on plan, it's important to watch your portions 
especially with the heavier S meals, or high-fat meals





4. Focus on conversation with those around you instead of just the food. 





5. Fill your plate up with plenty of veggies. If you're not the host & you're not sure 
if your get together will have veggies, bring some of your own! 



6. Remember that if you do indulge, it will likely take 2-3 days to get the weight back 
off depending on how much you indulge. If you can think ahead to seeing that higher 
number on the scale, it will help you determine whether or not the cheat is worth it. 
(hint: 9 times out of 10 it's not!)

7. Move more! I always love to take a walk or even a hike before big holidays like 
Memorial Day. Moving your body will keep your mindset in the right place & will help 
you burn plenty of calories before your holiday meal.

8. Plan out what you're eating the night before. I'm a big believer in having a plan! 
Even a tentative plan is better than no plan & you'll be a lot less likely to stick to 
your goals!
I feel so blessed to have the knowledge that Trim Healthy Mama teaches because I know that I can find a healthy substitute for practically any food I want to make, not just for every day, but for special occasions as well. Whatever you choose to eat for Memorial Day, I hope you're able to stick to your goals & enjoy your company & food, which is very easy when you eat the Trim Healthy Mama way!