One of my favorite comfort foods is ice cream! And these days I'm wanting a lot of healthy substitutes for my favorite comfort foods. I came up with this recipe awhile ago, but I thought it was time it went up on the blog because it is one of my favorite ice cream recipes. Why have the sugar laden ice cream that will leave you with a sugar crash when you can easily make your own healthy version 🙂 I make homemade ice cream for my family each Friday for our pizza & movie night. Whoever picks the movie gets to pick the ice cream flavor. My kiddos love this tradition! I make my low carb ice cream in my cuisinart ice cream and yogurt maker. This is the model I use: Cuisinart Ice Cream Maker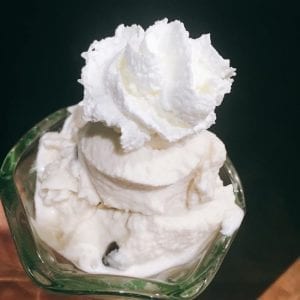 Mint Chip & Classic Vanilla Ice Cream (THM S, Low Carb, Keto)
A healthy alternative to mint chip ice cream that tastes just like the real thing!
Ingredients
Mint:
1 1/2

c.

almond milk

1 1/2

c.

heavy whipping cream

2

tsp.

peppermint extract

4

tsp.

vanilla extract

2/3

c.

gentle sweet or alternate sweetener of your choice

adjust sweetener to taste

1/2

c.

Lily's semi sweet chocolate chips

any of your favorite sugar free chocolate chips or simply broken up 85% dark chocolate pieces

Optional: whipped cream
Classic Vanilla:
1 1/2

c.

almond milk

1 1/2

c.

cream

1/3

c.

gentle sweet

2

T.

vanilla

Optional: berries

caramel, chocolate, peanut butter, nuts or any mix in you'd like!
Instructions
Make sure your ice cream bowl is in the freezer at least 24 hours before you want to make your ice cream

Whisk together ingredients in a separate medium sized bowl(except chocolate)

Take your frozen bowl out of the freezer and set it inside the ice cream maker base

Start your ice cream maker

Slowly pour the ice cream mixture into the ice cream maker as it's turning (if you do it before, the mixture will automatically stick to the sides of the frozen bowl and it won't be able to mix- I made that mistake once and once only 😉

Set your timer to 20 minutes

Add in the chocolate or any mix in the last 3 minutes

Serve in ice cream serving glasses

Top with whipped cream if desired
There you have it! Easy & healthy ice cream in just 20 minutes 😉 What is your favorite ice cream flavor?