It's pumpkin season! You better believe I'm making pumpkin everything 😉 Most of the pumpkin desserts out there are S's because of their fat content, so I wanted to create an FP dessert. I love having FP desserts on hand so I can have something tasty after any dinner that doesn't add a lot of calories to my day & doesn't sit too heavy with me. They also make a nice light snack. Add a cup of FP hot cocoa, and it's sure to hit the spot! My first version only had 1/3 c. pumpkin, but I wanted more pumpkin flavor so with this final version,  I added 3/4 c. which means they are nice and moist 🙂  My hubby and kids all approved!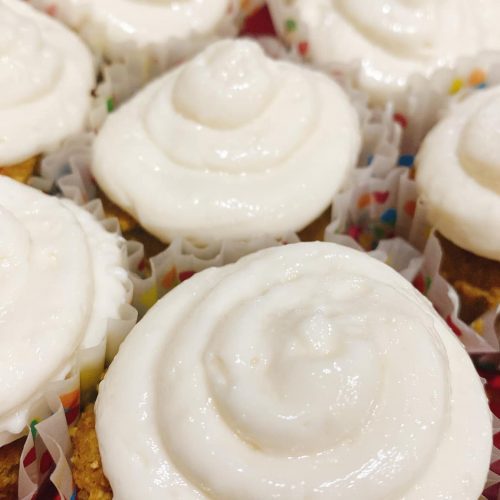 Pumpkin Cupcakes- FP
A lightened up version of a pumpkin cupcake that is so tasty you won't even notice that it is low in calories & carbs 😉
Ingredients
Dry Ingredients:
1 1/2

c.

THM baking blend

(or a comparable baking blend)

1/2

c.

oat fiber

*you can use 2 c. baking blend instead, but I like the texture of the oat fiber/baking blend combo

2

t.

baking powder

1 T. +

1 t.

pumpkin pie seasoning

1/2

c.

gentle sweet

(or a comparable sweetener)
Wet Ingredients:
1/2

c.

unsweetened applesauce

1/2

c.

Greek Yogurt

(non-fat, no sugar)

2/3

c.

unsweetened almond milk

3/4

c.

canned pumpkin

(not pumpkin pie filling)

6

T.

egg whites

1

t.

vanilla

1 1/2

t.

maple extract

1

t.

molasses
Frosting:
1/2

c.

Greek Yogurt

8

Light Laughing Cow Cheese Wedges

1/4

c.

gentle sweet

(or a comparable sweetener)

1/2

t.

maple extract
Instructions
Mix the dry & wet ingredients separately

Add the dry ingredients into the wet ingredients & mix thoroughly

Place 18 cupcake liners in muffin tins & spray with non- stick spray (use avocado, coconut or olive oil spray)

Fill each cupcake liner halfway with batter

Fill any cupcake hole that doesn't have batter with water to create even baking

Bake the cupcakes for 25-30 minutes or until the top of the cupcakes are brown and firm

While the cupcakes are baking, make the frosting

Use a beater with a beater attachment to mix the frosting ingredients together until smooth

Allow the cupcakes to cool

Once cooled, pipe the frosting onto the cupcakes. It will cover 12 cupcakes well, so you can either make more frosting, use less on each cupcake, or push a few chocolate chips in the other 6 (this is best done as soon as they're out of the oven)
Notes
*2 cupcakes are great for a snack. Stick to 1 for a dessert 🙂
If you want another FP pumpkin treat, check out my pumpkin pudding 🙂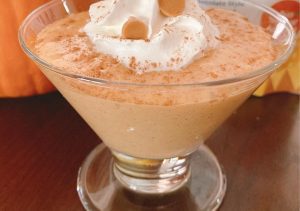 What FP or lighter pumpkin desserts do you enjoy this time of year?