It's Thanksgiving time! I love all of the traditions centered around this holiday. One of my husband's traditions is to make raspberry jello (his mother's recipe) instead of having cranberry sauce. It hits the spot every year, but I we have always just used the sugar free Jello mixes from the store. I finally got around to THMifying it this year and it is yummy!!! If you're looking for an alternate to cranberry sauce, try this recipe out! It's soo good!!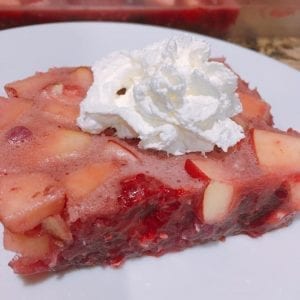 Karen's Raspberry Jello- THM E, FP
This is a family favorite that has been a tradition of my husband's family for years. We eat every year with turkey instead of the cranberry sauce, & now we have an on plan version!
Ingredients
1 1/2

c.

frozen raspberries

3

packets Raspberry Lemonade

True Lemon

1/2

c.

Gentle Sweet

2

c.

+ 3/4 c. water

3

T.

Gelatin

1 1/2

small apples

diced

3/4

c.

crushed pineapple

1/3

c.- 1/2 c. chopped walnuts
Instructions
Make a Raspberry Puree by blending 3/4 c. frozen raspberries, Raspberry Lemonade Packets , sweetener & 3/4 c. water

Meanwhile, boil 2 cups of water

Quickly whisk 3 T. Gelatin into the boiling water to prevent clumps (blend if needed)

Combine puree and water/gelatin

Stir in apples, pineapple, remaining 3/4 c. raspberries, & walnuts

Set in fridge until firm

Enjoy as a side with your turkey!
This recipe is an E made as is, if you omit the apples and pineapple it becomes an FP