This time of year is all about bbq's, swimming pools, late nights, spending lazy days in the sun & just enjoying slowing down for a season. It's also a time we get to celebrate Father's. My own father has always loved homemade meals from my mom, not only because she is a wonderfully creative cook but because she puts so much love into her cooking and who she cooks for. I try to do the same for my family & my hubby always requests homemade meals for Father's Day. He loves my THM cheesecake so that was his first request this year. He then asked for some THM friendly creamy enchiladas.  My Father in Law loves sourdough bread so I'll make him some homemade sourdough bread since I've enjoyed baking lately. I'm so grateful for all of the fathers in my life!
Here are the recipes my hubby requested for Father's Day (click on the links to get the full recipes) :
Our family could seriously eat Mexican food every night of the week. Enchiladas are one of our favorites & my hubby requested I try to make a THM friendly version of his mom's creamy enchiladas that he had growing up. It was a tall order to fill, but he gave it 10 out of 10 for the practice run so I call that a success!!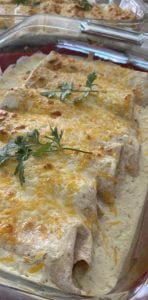 We love this combo of chocolate, pecans & caramel. No- bake cheesecake is one of my hubby's favorites & this year he requested a turtle version of it. This decadent dessert tastes like the real thing but it's THM friendly! It is a heavy S so it's best reserved for special occasions like Father's Day!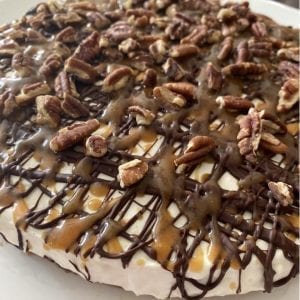 What are you making for Father's Day? How do you spoil your hubby's & father's on Father's Day?