If you know me, you know that quinoa bowls are a go to lunch for me! Since it's summer time now, there are so many more varities of fruit to choose from!! My 4 and 6 year old boys must have inherited the Hawaiian gene from my hubby and I (neither of us are Hawaiian but he was born there and I lived there for 6 years;). They both love pineapple so they begged me to get one at the grocery store this week! I cut it up yesterday and decided to add it to my quinoa bowl today. I added some red pepper flakes, garlic salt, and parmesan cheese and the flavors were dancing in my mouth. This is going to be one of my favorites this summer! I just ate it cold so it would be a great meal to take with me to the pool or the lake. YUMMY!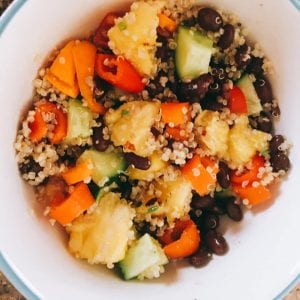 Tropical Quinoa Bowl (E)
If you want a quick, go to E meal with some yummy summery flavors, this quinoa bowl may be just what you're looking for. You can make it under 10 minutes and it's light and refreshing.
Ingredients
1/2

c.

cooked quinoa

1/2

c.

black beans

1/2

c.

diced cucumbers

1/4

c.

diced sweet mini peppers

1/3

c.

diced pineapple

fresh is best, but canned would work ok

a few shakes of parm cheese from the green can and garlic salt

red pepper flakes to taste

about a pinch is enough for me to give it flavor but not overwhelm the dish

Optional: a pinch of chives
Instructions
Dice cucumbers, mini peppers, and pineapple

Open up a can of black beans and rinse well

In a small bowl combine quinoa, beans, veggies and pineapple

Add seasonings

Enjoy!