It's Halloween weekend & there's sweet temptation all around! Last week I posted some THM candy ideas so you can satisfy your sweet tooth & still stay on plan. If you're really short on time, however, & want a quick & easy dessert for the holiday this caramel dip is perfect for the occasion! It comes together in minutes & you can be creative with what you dip in it. Strawberries will keep you in S mode. If you decide to dip apples & bananas, it becomes a slight XO but I think XO's are worth it on holidays if it means staying on plan 😉 You can get creative & make 2-minute truffles or smear it on a wasa cracker with some lily's chocolate chips as well. Both of those will keep you in S mode. Have fun with it & enjoy! It's perfect to take to a small gathering or party if you're having one this year 😉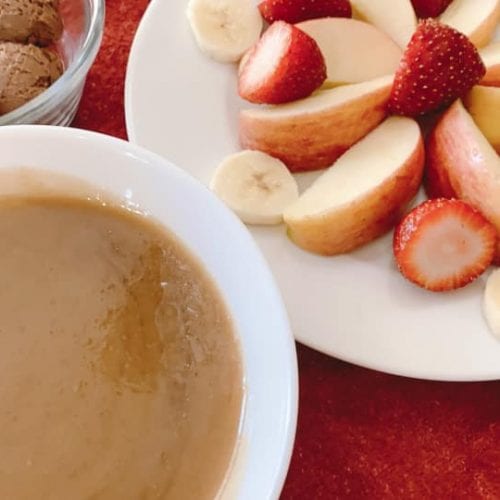 Caramel Dip (THM S, low- carb, keto)
A healthy caramel dip perfect for dipping at any party or special occassion; )
Ingredients
1/2

c.

butter

1/2

c.

brown sugar substitute

Sukrin is my favorite, you can also use 1/4 c. + 1 T gentle sweet + 1 tsp molasses

1/2

c.

1/2 & 1/2

This lightens it up, but you can use cream if you prefer

1/2

t.

xantham gum or gluccie
Instructions
Cook the butter & sweetener on medium high heat until it bubbles for about 2 minutes. Make sure to constantly whisk it.

Turn heat to low & quickly whisk in xantham gum until it dissolves

Turn heat back up to medium heat. Add in half & half & let caramel mixture boil for another 2 minutes, contantly whisking so it doesn't burn

Turn off heat & let caramel cool a bit before serving

Use as a dip for your favorite fruits or to drizzle over a favorite dessert. A wasa cracker with some melted lily's & a drizzle of this caramel hits the spot 😉
The other dip pictured here is the Peanut Butter- Chocolate dip from My Montana Kitchen. This is a great dip so you can have it with any fruit & it doesn't change the fuel. So make both dips & have a dipping party!
If you missed the Halloween candy roundup from last week, you can access it here: THM Halloween Candy Round-up
What are you making for Halloween?