The trend of the diet & health industry has been low carb lately. As Trim Healthy Mamas we know that Low-Carb can work but it is not a long term solution. Carbs are essential for healthy adrenals & to get the right mix of macros into our diets. For most of us Trim  Healthy Mamas, we notice that we have more success on the plan when we eat plenty of E meals. According to the Trim Healthy Mama Plan book, "E meals will allow you to gain health, vitality, & a fired-up metabolism while eating carbs-delicious, energizing carbs- always safely anchored by protein." (Trim Healthy Mama Plan book p. 39) I have truly experienced this for myself enjoying plenty of yummy, healthy, & slimming E meals.
My top 7 favorite E meals are:
French Toast
If I could eat this breakfast every day, I would! But after living the Trim Healthy Mama life for over 7 years now, I know too well the importance of switching up fuels frequently. However, when I'm in the mood for an E breakfast that feels indulgent, I make this! It's quick & easy & feels like you're cheating!! You simply use Ezekiel or sourdough bread, and dip it in equal parts almond milk & egg whites with a little cinnamon, sweetener, & nutmeg.
Grill on a greased pan until both sides are brown, about 2-3 minutes on each side. Top with your favorite E toppings. My favorite toppings are unsweetened applesauce, Nature's Hollow Maple Syrup, some cinnamon & a small squirt of Reddi whip. If you'd like more protein, you can add some triple 000 on top or even have a protein shake on the side.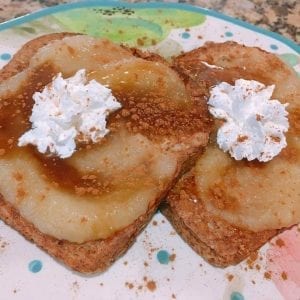 ​
Loaded Sweet Potatoes
Loaded Sweet Potatoes are one of my favorite E meals because they are easy, tasty, & so filling. The trick is to bake the sweet potatoes long enough & at a high enough temperature to get them as sweet and yummy as possible. I like to prep them by washing them thoroughly, poking them with a fork so they don't explode, & wrapping them in foil. I bake them at 400 degrees for 1 hour.
I like to make several at once so I have enough to eat on throughout the week. I rotate the carbs I make each week for easy lunches. You can make these loaded sweet potatoes your own by topping them with your favorite lean protein, veggies, & salsa. I love mine with ground turkey, steamed broccoli, black beans, cottage cheese, salsa, cilantro & some parmesan cheese from the green can. My kiddos love this meal as well (even my pickiest eaters) & it is very filling!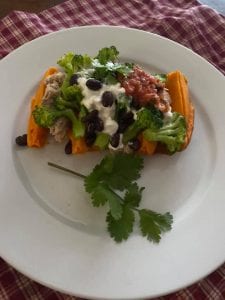 Mexi Quinoa Bowls
I've been making quinoa bowls since I started THM. I love the lightness of quinoa & the flavors of this particular recipe. I am a huge fan of Mexican flavors & the combination of these flavors hits the spot every time. It is definitely a comfort meal. I sometimes make this meal vegetarian & it's just as good with plenty of healthy protein from the beans as well as the quinoa. You can find the full recipe below the pic.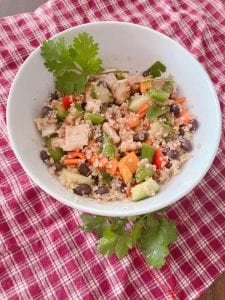 Sweet Potato Pizzas
I came up with these sweet potato pizzas when I was doing a fuel cycle & still wanted to have pizza night with my family on Friday but was on an E day. They're a fun take on pizza & the combo of sweet & savory flavors creates a happy dance for your taste buds. You can have 7-8 small pieces with a bit of cheese on top as well as lean turkey bacon & still stay under your fat grams for an E meal. The full recipe is found in the link under the picture.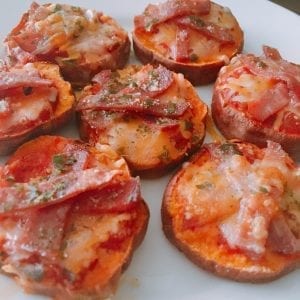 Chili
Chili is the ultimate comfort food. I remember the smell of chili cooking on the stove all day in the fall growing up in Colorado. We always had chili on Halloween & it was a perfect warm meal to fill our bellies before going trick or treating in the often cold Colorado weather. My husband grew up in Hawaii & chili & rice is a staple there. I love to have brown rice with this recipe as a healthy alternative to this satisfying & filling meal.
You can make this recipe your own by adding your favorite spices. My husband & I entered this particular chili recipe in our annual church chili cookoff two years in a row & won both years! The complete recipe is found under the picture.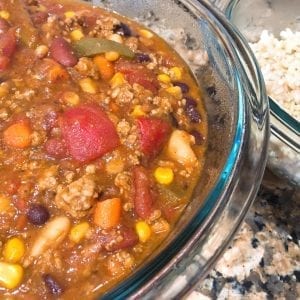 Ezekiel Muffin Sandwiches
Egg White Ezekiel sandwiches are perfect for those mornings when you don't have a lot of time or need something to eat on the go. Simply toast the Ezekiel muffin, spread with Light Laughing Cow Cheese, fry some egg whites using coconut oil or olive oil spray, add sliced tomatoes, spinach & lean deli meat if you'd like!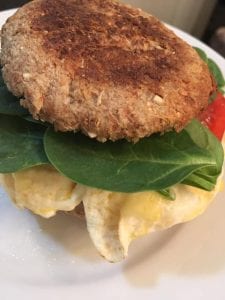 A Banana, Chocolate/Peanut Butter Ezekiel Sandwich is another quick & easy E breakfast. Toast an Ezekiel English Muffin. Add Chocolate & Peanut Butter Spread from My Montana Kitchen with sliced bananas. Add a Good for you Protein Shake for more protein 🙂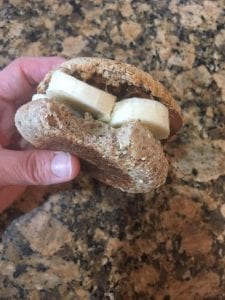 I'd love to hear from you, what are your favorite E meals?