I was so excited to see that Lily's, the brand that makes my favorite sugar free chocolate chips, came out with butterscotch chips, & let me tell you… these butterscotch chips taste like the real thing! They're my hubby's favorite cookie! He said they're buttery with a rich brown sugar flavor that are nostalgic of childhood. Chocolate chip cookies are classic & always good but it's definitely fun to change up your cookie flavor! When I was baking them I had each of my kiddos come in one at a time & say: "It smells so good in here, what are you making?" The house really did smell divine. My kiddos have been gobbling them up, so I had to hide them 😉 When baked, the butterscotch chips turn into an ooey-gooey caramel-like substance. The best part is you can eat these delightful cookies & stay on plan!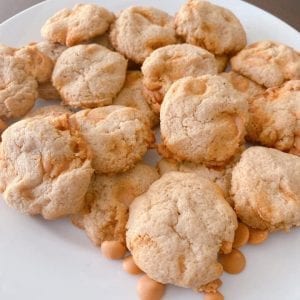 The Best Butterscotch Cookies (THM S, low-carb, keto)
These nostalgic, buttery cookies with a rich brown sugar & caramel taste are perfect for a little afternoon pick me up or anytime really!
Ingredients
Cream Together:
1

c.

softened butter

1/2

c. + 1 T.

Gentle sweet

3/4

c.

Brown Sugar substitute

I love the Pyure brand
Dry:
1

c.

almond flour

1

c.

baking blend

1/2

c.

oat fiber

1

t.

baking soda

1/2

t.

salt

3/4

t.

xantham or gluccie

11/2

c.

Lily's butterscotch chips
Wet:
1 1/2

t.

vanilla

1

t.

molasses

2

eggs
Instructions
Cream together the butter & sweeteners

Add in the wet ingredients

In a separate bowl, combine the dry ingredients, including the butterscotch chips (they will be more evenly distributed among the cookies if you do this)

After the dry ingredients are combined, mix with the wet ingredients

Spray cookie sheet with non-stick olive oil or coconut spray

Scoop cookie batter onto baking sheet with a small cookie scooper or use a spoon to scoop 1 T. of batter onto the sheet

Flatten cookies with the palm of your hand

Bake for 5 minutes & scoop batter onto a 2nd pan while cooking the 1st

Turn the 1st pan of cookies around & bake for an additional 4 minutes with the 2nd pan of cookies

Cook the 2nd pan of cookies for 5 additional minutes

Repeat this process until the batter is gone

Let cool on pan for a few minutes then transfer to a cooling rack
Notes
Note: the butterscotch chips take on a caramel texture once baked & they will stick to your spatula so you have to clean it in between 🙂
Some of my other favorite cookie recipes are:
These are my kiddos favorites & they're quick & easy!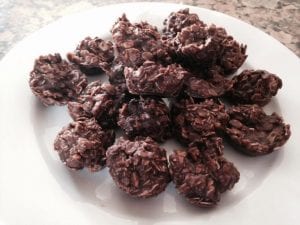 White Chocolate Macadamia Nut:
These transport us back to Hawaii where my hubby grew up, we met & went to school. Ahh the good old days 😉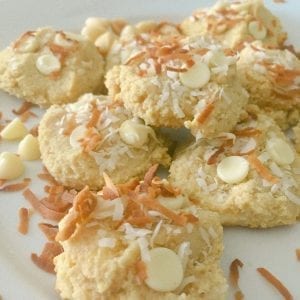 Moms Double Chip Pumpkin Cookies
I know it's not quite pumpkin season yet, but it's just around the corner. These pumpkin cookies are sure to put you in the mood for fall weather & crips leaves!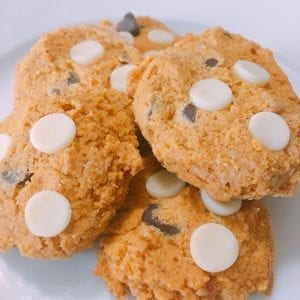 And last but not least, my mom's classic chocolate chip cookies! We love these right out of the oven or frozen.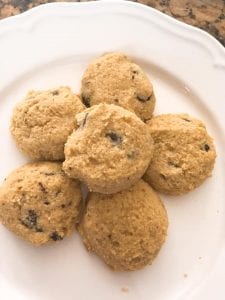 Isn't it fun that we have so many cookie options as THMers? What is your favorite kind of cookie!